Crazy for Crosswords: Survey Shows American Crossword Habits
By - 01/04/2023
Crossword puzzles: from elementary school learning aides to a cherished Sunday tradition, nearly everyone in America has tried their hand at a crossword puzzle. These standbys of American entertainment have been around since the 19th century to challenge, entertain, and challenge you to unscramble words. But how many complete these puzzles regularly?
We surveyed over 1,000 Americans on their crossword habits; from where they do them to how often, and whether or not they need a little help to successfully solve them.
Crossword Nation


Nearly everyone (99%) has done a crossword and 89% of Americans enjoy doing them. When we look at generations, Baby Boomers and Zoomers (Gen Z) especially enjoy doing crosswords, with 38% of Boomers and 50% of Zoomers doing crosswords regularly. Living in a city seems to increase the odds of crossword enjoyment as well - 1 in 3 city dwellers do a crossword regularly!
There's a lot to enjoy while completing a crossword. The top perks for Americans include the challenge, exercising the brain, keeping them thinking, and they're just having fun. In fact, they're so fun that 2 in 3 prefer crosswords to Wordle. Americans solve these puzzles with family, friends, spouses, and coworkers, with 56% reporting that family members also do crossword puzzles.
Crosswords even beat out other competition! More than 2 in 3 Americans also prefer crosswords to Sudoku, and 1 in 10 have even been inspired by social media to do a crossword.
Crossword Frequency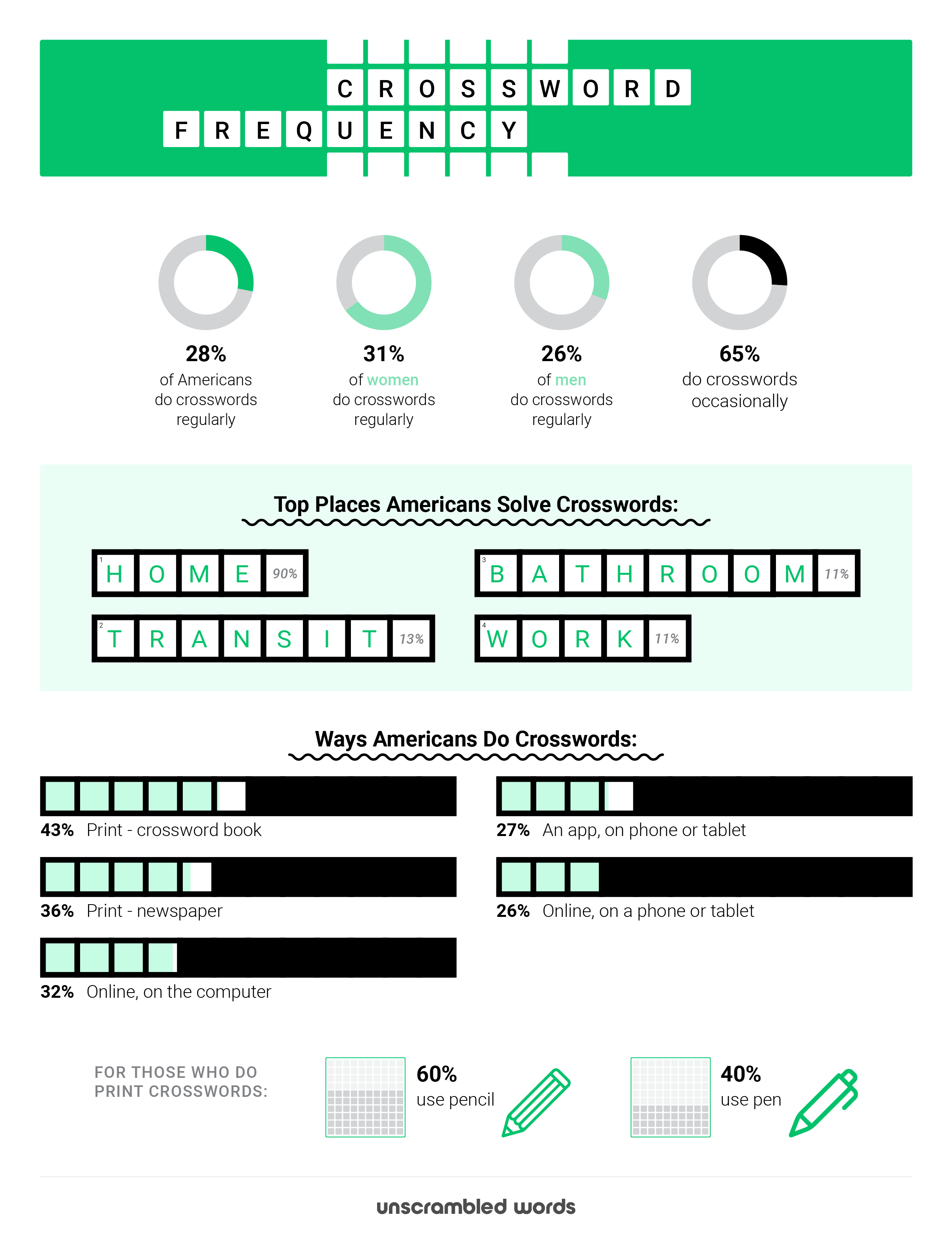 Over 1 in 4 Americans say they do a crossword regularly. When we look at a gender breakdown, 31% of women and 26% of men are stretching their brains and solving clues in a crossword. Of the non-regular crossword solvers, 65% still do crosswords occasionally. The top places people work on crosswords? 90% report solving puzzles at home, and over 1 in 10 say they solve puzzles in the bathroom! Others do puzzles in transit or at work, as they're a great way to spend time.
43% of Americans solve puzzles out of crossword books, while over 1 in 3 uses newspaper crosswords. Print solvers occasionally like to live dangerously, 40% solve print puzzles using a pen, while 3 in 5 prefer the more error-friendly pencil. Other popular puzzle modes include online on a computer, a crossword app, or online on their phones.
Daily Crosswords


Daily crosswords in newspapers are no surprise to anyone, the puzzles are right next to the comics and the other word and number games provided in the newspaper. It's no surprise, then, that 1 in 5 Americans do a daily crossword. Nearly 3 in 4 (73%) do the Sunday crossword, which 36% think is the hardest day to solve. Other difficult days include Monday and Saturday
The New York Times is the most popular daily puzzle, with 71% of Americans preferring it to others. However, local newspapers and the Washington Post are also favorites, netting 21% and 19% of American use respectively. Americans clearly love a challenge, as 64% also think the New York Times has the most challenging puzzles. Here's hoping you have some hints in your clues!
How Americans Solve Crosswords


Americans love their crosswords, but how do they solve them? It takes an average of 4.2 hours to solve a puzzle. However, only 1 in 5 say they always finish their puzzles.
When Americans find themselves stumped by a crossword, 69% say they try to work around the clue and fill in some letters. It's a lot easier to solve a clue when you know it contains certain letters! Other top strategies include guessing and checking or researching the question, and nearly 1 in 4 just look up the answers. America clearly isn't patient: only 1 in 5 people wait 10 minutes or less before they jump to looking up answers.
To solve a puzzle, the procedure is the same for many, 85% start with "Across" clues first, and the top strategy of the puzzle-solving nation is to jump to clues known right off the bat.
Doing crosswords has both positive and negative effects on puzzle solvers, such as expanded vocabulary, better problem-solving skills, and an increase in headaches. Some people even look forward to certain days of the week just because they know a new crossword is coming out!
While daily crossword doers are rare, it's safe to say that America loves its crossword puzzles. These fun games keep the mind sharp and are just plain fun. Next time you're looking for a diversion, consider a 9-letter word starting with "c"!
Methodology
We surveyed 1,000 Americans on their habits and preferences with regard to crossword puzzles. 49% were female, 49% were male, and 2% were trans or nonbinary. Ages ranged from 18 to 80 with an average age of 40 years old.
Fair Use
When using this data and research, please attribute by linking to this study and citing Unscrambled Words.